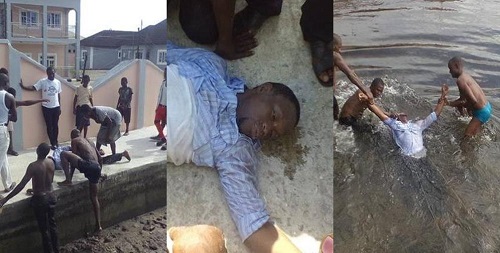 A corps member who was serving in Bayelsa state has been reported dead after falling into a river while trying to take selfie.
The man who is yet to be identified was taking a selfie when he met his untimely death. The incident took place at Ogbolomaibiri, Nembe on Friday, May 4.
The late corps member was capturing his beautiful moment at the top of a jetty when he reportedly slipped and fell inside the river. His corpse was recovered about 30 minutes later.
Meanwhile, a tragic incident also occurred at Yikpata camp in Kwara state, in which a serving corps member slumped and died on the parade ground.
The corp member named Eva Amadi, a graduate of Oil & Gas, from the University of Port-Harcourt, was said to have died from a bone fracture.
Eva slumped at the parade ground on April 23, and was attended to at the camp's health clinic, before she was referred to the University of Ilorin Teaching Hospital where she died.
May the soul of the deceased rest in perfect peace.