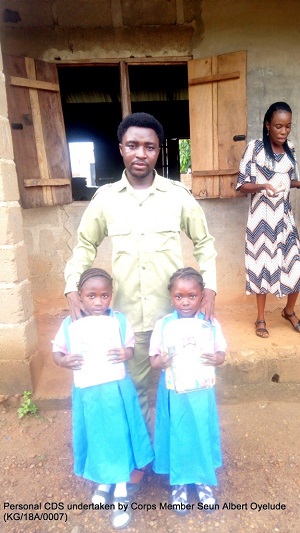 Corps Member Seun Albert Oyelude (KG/18A/0007) serving at Ultimate Academy, Ahoko, has awarded scholarship to two indigent students in the community, while fifty other indigent students benefited from his donation of writing materials.
In respect of the National Youth Service Corps scheme that corps member(s) should render community development services that will meet the present needs of their host community, the Corps Member awarded scholarship to two brilliant but indigent students whose education was highly threatened due to unpaid tuition fees, backlog of debts and lack of inadequate learning materials.
Sadiat Usman and Success Andrew were nominated by the Headmaster as recipients of the scholarships. One school uniform, a set of sport wears, a pair of sandals, two textbooks, two Queen Primers, four notebooks and pencils were purchased for Sadiat Usman, alongside her tuition fees.
On the other hand, one school uniform, two textbooks, two Queen Primers, exercise books and pencils were purchased for Success Andrew, alongside her tuition fees. The debt backlogs of the pupils were further cleared by Ms Ali Regina, Proprietress of the school. Afterwards, the two pupils fully returned to the classroom.
At the end of first term, Sadiat Usman had first position in her class, while Success Andrew came third in her class.
Furthermore, 300 writing materials donated by Dr Kelechi Okoro (Founder, Heal For Africa Initiative) to support 50 other indigent students were distributed by the Corps member and the Proprietress to 50 indigent students in the school.