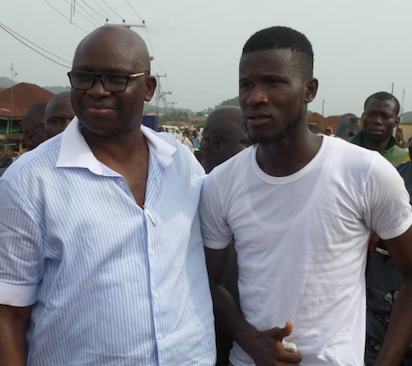 Executive Governor of Ekiti State, Mr. Ayodele Fayose has given a National Youth Service Corps (NYSC) Member who sought a photograph with him an automatic employment.
The Corps member, Osamwonyi Bright Osas, a graduate of Political Science and Public Administration, was said to be serving at the College of Education, Ikere-Ekiti.
Mr. Osas met Governor Fayose who was assessing the third phase of Ado/Ikere road dualization on Thursday and requested to take a photograph with him.
"Good afternoon Mr. Governor, I am a native of Edo, I relocated from Adamawa to Ekiti State because of my love for you, I follow everything you do religiously online, I love you so much and I pray God take you higher and higher. I graduated from UNIBEN with a first class in Political Science and Public Administration, one thing I pray thee Sir, please allow me snap with you Sir", Osas said.
The Governor who granted his request, said to him "go to the provost tomorrow, tell her I asked her to give you automatic employment".
Speaking to newsmen, Osas said "I am in love with the fact that he's fearless, he discharges his duties without fear or favour, that is one of the qualities I cherish in him. I learnt from him that for you to rule successfully, you must appreciate the common man, he is a very good friend of the masses, seeing him come so close to the people inspires me, I was just coming from my CDS now and I saw him here, I was so happy and I said I must see him before he leaves and that was why I accosted him.
"I just thank God for what happened now and I pray God bless him abundantly. He has just called the provost that I should be retained, that I should be given automatic employment, permanent employment, he called the provost and the provost said first thing on Monday I should come with my CV. I just want to appreciate governor Fayose."