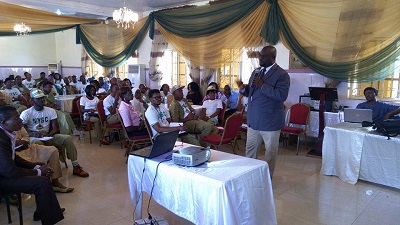 NYSC trains officers and corps Doctors on CSM Disease
In its bid to compliment governments efforts in waging war against Cerebrospinal Meningitis (CSM) disease in Nigeria, the National Youth Service Corps has put together a training of trainers Workshop on Prevention, Care and Treatment of Cerebrospinal Meningitis for its officers and 74 selected Corps Doctors from the 36 states and the FCT.
The workshop, is aimed at developing and building the capacity of both staff and corps members to enable them respond accordingly to the outbreak of cerebrospinal meningitis in some parts of the country.
Declaring the training open at Global Village Suites and Hotel, Koroduma, Karu in Nasarawa State, the Director General NYSC, Brigadier General Suleiman Zakari Kazaure said, the workshop is a response to the clarion call to save citizens from the dreaded cerebrospinal meningitis and to join the government in the general sensitization and awareness creation about the disease.
Brigadier General Kazaure, who was represented by the Director, Community Development Service and Special Projects, Mrs Rhoda Kaka Kwaki, also noted that the NYSC scheme has been in the forefront of rendering critical and indispensable services to the nation in the areas of healthcare delivery, sensitization and advocacy, electoral duties among others, adding that these laudable steps deserves collective support in order to ensure the success and continuous sustenance of such developmental programmes.
"The involvement of the scheme in the fight against this epidemic will immensely compliment the efforts of the Federal, State and International development partners to tackle the outbreak in affected areas", Kazaure said.
The NYSC boss explained that, at the end of the training, there will be massive sensitization campaign to raise awareness among the citizenry about the disease as well as provide education about its symptoms and actions that could help prevent infection across the length and breadth of Nigeria.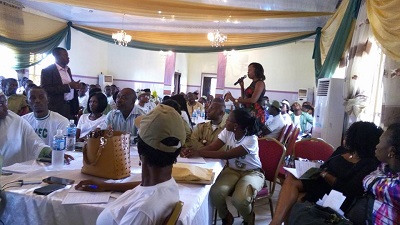 He urged participants to take the training seriously and develop strategies to increase detection, improve treatment and adopt best hygiene practices in the fight against the reinsurgence of CSM in Nigeria.
The Director, Community Development Service and Special Projects NYSC, in a welcome address informed participants that the training is meant to build their capacities on the modern principles of addressing the challenges associated with the disease.
Speakers and trainers at the one day workshop are drawn from Federal Ministry of Health, Family Health International, Nigeria Center for Disease Control, Nigeria Medical Association among others.
Source: NYSC