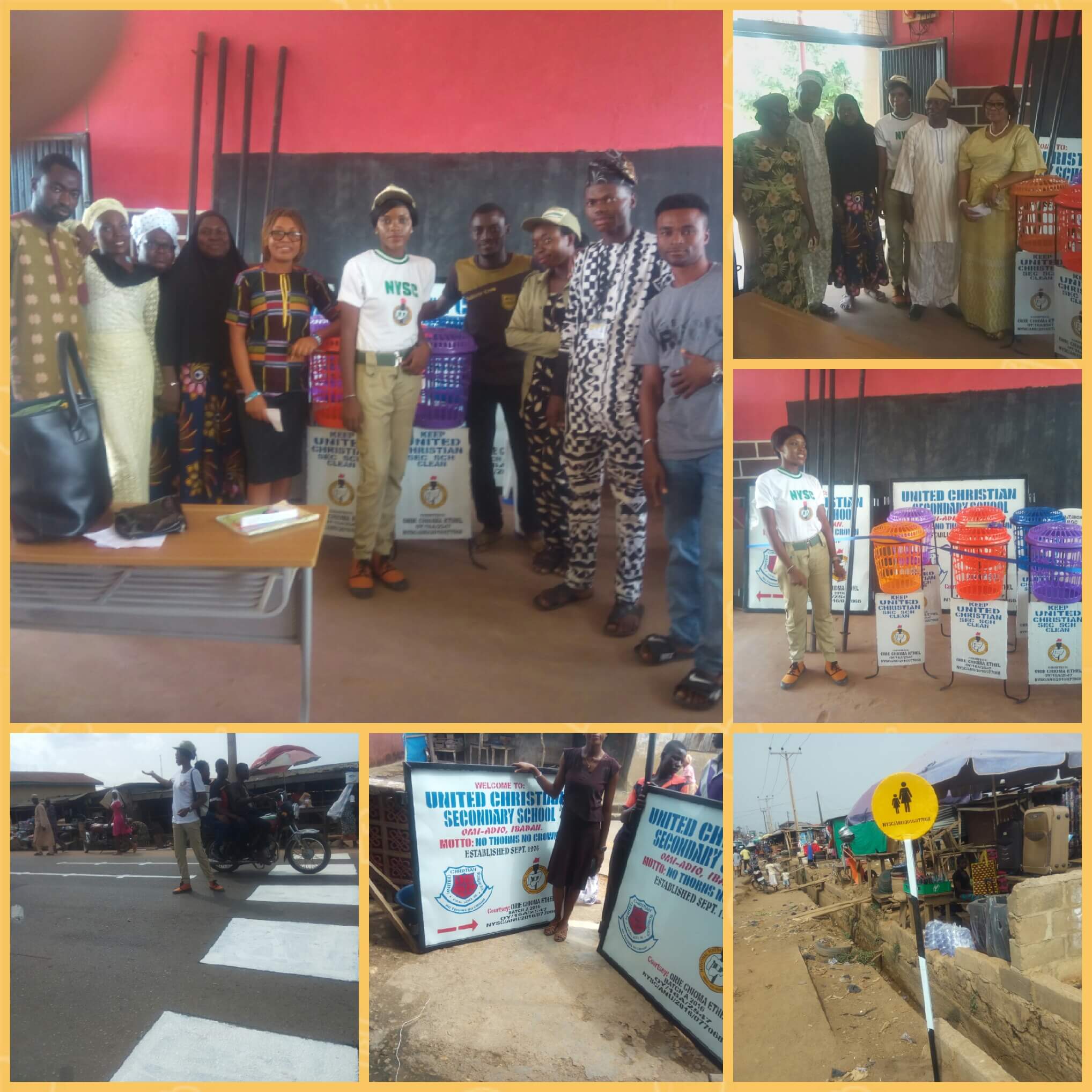 Chioma leaves a landmark in UCSS Ibadan
Orie Chioma Ethel, NYSC 2016 batch A stream 2 Corps Member has written her name in gold as she kept to the promise she made herself on arrival at her place of primary assignment.
Chioma who served at United Christian secondary school (UCSS) Omi Adio Ibadan, Oyo State constructed two (2) signpost, Six (6) permanent trash bins with six (6) ring stands and also did a zebra crossing along the Ibadan Abeokuta express way with two (2) Pedestrian crossing signs.
The CDS project was commissioned on 31st March 2017 by the school principal, Mr. E. O Babajide (ANCOPS secretary Oyo State), in the company of the NYSC LGI, Mrs Sulaiman Rafiat Olubokola to the glory of God and for the good of humanity.
Miss Chioma said that her experience spurred her to want to make a difference in her host community by leaving a legacy and landmark in her PPA.
"My reasons for embarking on the project was to address the challenges faced by the school and community at large."
She recounted that when she was deployed newly as a corps member, she had difficulty locating her PPA because they had no signpost, if not shown by a motorist, she'd been lost.
"I wouldn't want that to happen to someone else so I came up with the idea of constructing two (2) signpost for the school."
"The zebra crossing drawing was necessitate by the fact that some drivers do drive recklessly around this area at a high level speed not minding pedestrians crossing which include students thus, the zebra crossing will help to check the speed of vehicles." 
Orie Chioma Ethel, graduated from the department of Sociology and Anthropology in Anambra State University. A native of Nneoato Village in Munneochi Local Government area, of Abia state. 
More Photographs below: