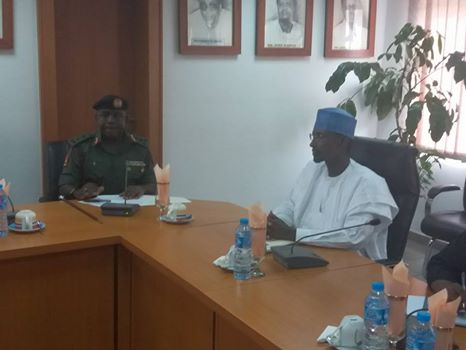 FCT Minister counsels NYSC on staff housing
The Minister of the Federal Capital Territory, Muhammad Musa Bello, has counseled the NYSC Management on utilizing the NYSC Staff Cooperative Society platform to apply for land for the purpose of staff housing estate.
Mr. Bello gave the advice when the NYSC Director-General, Brigadier General Sulaiman Kazaure, paid him a courtesy visit.
Bello remarked that the provision of housing for the scheme's workforce was paramount, adding that the procedure suggested by him would facilitate the acquisition of land for the project.
The Minister noted that the NYSC FCT Orientation Camp located at Kubwa was overstretched by a combination of factors, especially the urbanization of the city and increasing corps population. He pledged to look into the possibility of facilitating the camp's movement to a permanent site.
Mr. Bello gave a directive for the allocation of a utility vehicle to the Secretariat while promising a better office accommodation for the NYSC FCT Secretariat in the nearest future.
The Minister lauded the founders of the NYSC scheme, which he hailed as a vehicle for uniting the nation.
Speaking earlier, the NYSC Director-General, Brigadier General Sulaiman Kazaure, had expressed gratitude for the level of attention the Minister is paying to matters concerning the NYSC in the Federal Capital Territory.
Kazaure used the occasion to seek the Minister's intervention in some of the Scheme's areas of need.
Source: NYSC