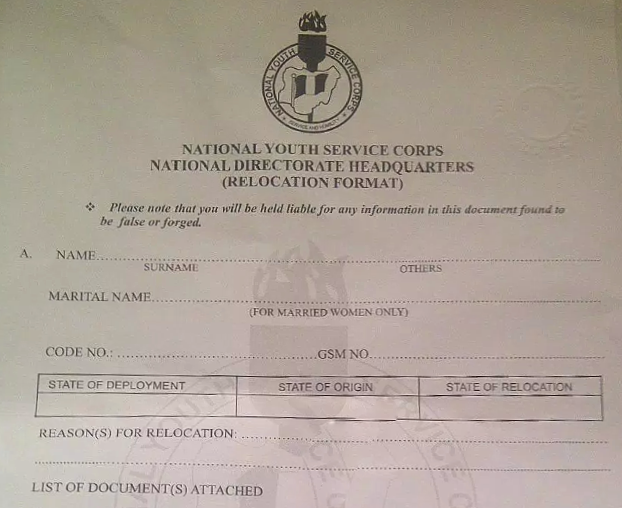 It's normal to be anxious about NYSC call-up letter because the state of deployment may not be favorable or as expected. you may have asked how to apply for NYSC Redeployment/Relocation.
NYSC Management allows for redeployment/relocation to a choice state.
NYSC Redeployment/relocation are granted on any of the four conditions below:
Health
Marriage
Security
DG Directives
Read Also: How to print NYSC Call-up Letter
When to Apply:
There are two ways to apply for redeployment: While in Camp and Online.
1.

To apply for redeployment/relocation while in Camp:

During the NYSC Orientation course in camp, Corpers interested in redeploying/relocating will be given the opportunity to apply for relocation.

They'll have to fill a form stating reasons for wanting to redeploy/relocate and other details. An evidence will be required with the form submission as well as an application letter.

Requirement for Application for redeployment/relocation in Camp include:
Application Letter
Questionnaire stating particulars and reason for redeploying
Evidence for reason to redeploy (e.g Marriage Certificate or Health Certificate)
Read Also: How to obtain compulsory medical certificate for NYSC Orientation Camp
2.

Online Application for redeployment/relocation:

Apart from applying for relocation in Camp, you can also do it online.

Steps in applying for NYSC Redeployment/relocation online
Visit the NYSC portal
Sign in with your email and password; same as the ones you earlier used in registering on the portal.
Click on "Relocation"
Fill in your details appropriately into the fields provided.
Wait for notification either by SMS or email on your application status
If your application is approved, you'll be notified by SMS or email as well.
Read Also: 7 things to consider before joining a CDS Group
If your application is approved, here's how to print NYSC Online Relocation and Redeployment Letter: 
Visit the NYSC Portal
Log in with your details
Select "Manage Relocation"
Make payment
Print your payment receipt. It's your evidence of payment in case any unexpected issue arises latter
After payment you'll see an option to print redeployment/relocation letter
Print the letter and make a copy
Take it to your new State of deployment
Read Also: How to make extra cash during NYSC Service year
If you have questions, kindly leave a comment below and we'll respond.
Back to top
Discussion
Add new comment